Mountain View Dental - Meet Our Staff
Bernd Weber, DDS
Owner/President & General Dentist

Born in Cologne, Germany, Dr. Weber came to the US as a young teen. He became a US citizen in 1982. After completing his undergraduate studies at the University of Florida, he graduated from Marquette University School of Dentistry in Wisconsin in 1988. He joined the practice just a few months later. Dr. Weber has been a longtime member of the American Dental Association, along with membership in the New Hampshire Dental Society and the North Country Dental Society.
A lover of the North Country and all it has to offer, Dr. Weber enjoys many activities throughout the different seasons to include hiking, biking, snowshoeing, skiing, water sports, and following his favorite sporting events. He and his wife have three grown sons and two grandchildren.
Dr. Mielle Fox
General Dentist

A first generation American and a lifelong New Englander, Dr. Fox completed her undergraduate studies at Simmons College and her post graduate studies at Tufts University with a Master of Science in Public Health. After graduating from Tufts University School of Dental Medicine in 1991 and spending a year in general dentistry in Rhode Island, Dr. Fox moved to Vermont in 1992. She has been providing general dentistry services in northern Vermont and New Hampshire since 1992.
Dr. Fox is an active member of the American Dental Association as well as the New Hampshire Dental Society and Vermont State Dental Society.
An avid equestrian, Dr. Fox spends most of her free time training and riding her horses in addition to enjoying the outdoor activities offered by our beautiful North Country lifestyle.
Practice Manager
Angie Simino, RDH

Graduating from the University of Vermont with a degree in Dental Hygiene in 2001, Angie started her career as a Registered Dental Hygienist. She joined Mountain View Dental in 2004, transitioning to the position of Practice Manager in 2015. You'll still catch Angie working in the clinical areas on occasion, but generally she's overseeing the day-to-day operations of the Practice. This includes human resources and staff management, education and staff training, ensuring compliance with OSHA, HIPAA, state and federal regulations, practice promotion and marketing, record-keeping, aspects of payroll and accounts payable, computer troubleshooting and acting as a liaison for the many vendors, organizations, and our patients that keep the Practice going.
Administrative Staff
Working in the spotlight, these are often the first faces you see (or voices you hear on the phone) when you are greeted at Mountain View Dental. This group of professionals is responsible for just about all non-clinical aspects of the dental office. Multitasking is a must, as they are often pulled in many directions at once! They can answer your questions and require knowledge of dental procedures to perform the many duties associated with their positions.


Administrative Staff
L to R: Amanda N., Tammie, Brenda D.,
Dental Assistants
Dental assistants perform a variety of patient care, office, and laboratory duties, and generally work alongside dentists as they examine and treat patients. They make patients as comfortable as possible in the dental chair, prepare them for treatment, and obtain their dental records. Dental assistants perform many supporting duties throughout the dental office.


Dental Assistants
L to R: Haley, Brenda P., Amanda S.
Registered Dental Hygienists
Dental hygienists do much more than just clean teeth. Hygienists perform oral cancer screenings, take and develop x-rays, counsel patients on nutrition and oral hygiene, place dental sealants, give fluoride treatments, and use many methods to remove plaque, tartar, and stain from the teeth, among other procedures and supporting duties throughout the dental office. They also educate patients on various diseases and conditions. Hygienists help treat patients at various stages of periodontal (gum) disease with hopes to prevent issues and maintain or improve the health of the teeth, gums, and surrounding tissues.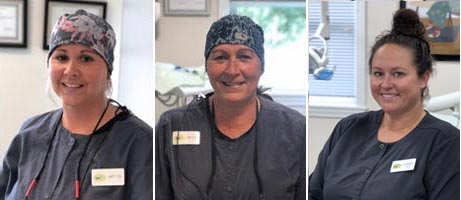 Registered Dental Hygienists
L to R: Kristy, Cindy, Lindsay, Lee-Anne