Mountain View Dental
Dentures
Removable teeth are one of the staples of dentistry. Yes, they are a prosthetic device (a contraption in your mouth) and require a lot of "getting used to," but for some, they can be a life-changing tooth replacement option. Partial and complete dentures cost a fraction of what fixed technology requires. In addition, fabrication is as simple as an impression and a few try-in stages to ensure the work is going as planned.
Today dentures are also used extensively as placement on implants as well. Implants and crowns can stabilize removable devices, greatly increasing the chewing power and comfort. For many, this increased freedom is well worth the extra cost.
These technologies are unique for every individual so please contact us for more info.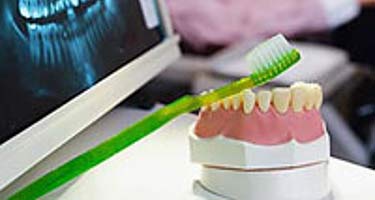 Full Dentures
We cut no corners with our full dentures. It is a science and an art. Rebuilding the orofacial complex (the whole lower part of your face) is daunting. We coach you through the whole adjustment process: Relieving sore spots, and offering tips for chewing, smiling, cleaning, and wearing.
The best ingredients make the best denture, so we use the best acrylics and teeth science can give us. We take our time, so the orofacial complex can get used to its new habits. It takes about 4-6 appointments to complete the denture. Adjustments and coaching afterward are complimentary.
We can get a denture done FAST as well. Start to finish in less than a week with planning, skill, and luck. Cost? The price may surprise you.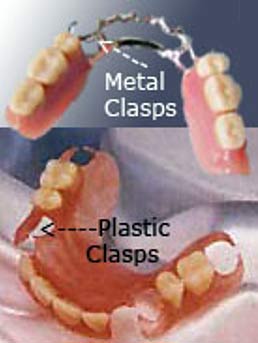 Partial Dentures
We cut no corners here either using the latest technology has to offer.
All plastic partials (including the clasps).
Metal based partials have been used for years and come in many varieties depending on the demands of the case.
Plastic based with no clasps or metal clasps.
We are careful to hide or camouflage clasps. Sometimes we have to use crowns to get both the esthetics and retention (grip) we need for the partial. All this depends on patient tolerances emotionally, esthetically, functionally, and financially.
Please contact us for more info.